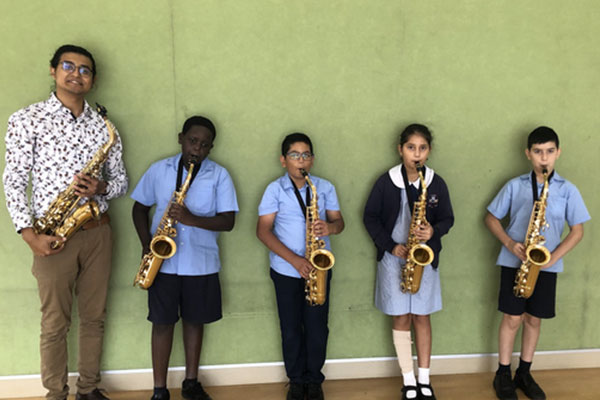 Sydney Catholic Schools' exciting new comprehensive music education program is well underway and St John's Catholic Primary School Auburn principal, Louise Maguire, can't say enough good things about it.
Sydney Catholic Schools' Amadeus Music Education Program has been delivered in 13 SCS primary and secondary schools in the Auburn-Lakemba area in 2021, helping students learn numeracy, literacy and emotional skills while experiencing the special joy of music.
As part of this program, students in Year 3 to Year 8 at the 13 schools participate in small group and ensemble music lessons delivered by specialist teachers. Students also receive an instrument, starting with a string instrument in Year 3.
"We are very happy that 157 of our students at St John's Catholic Primary School Auburn will learn an instrument with tutors and teachers who will motivate and encourage them to play in ensembles," Ms Maguire said.

"The research clearly outlines the benefits of learning an instrument and here, at St John's, we look forward to seeing our children grow in skill and confidence – not only in music, but all other key learning areas."